Years ago, I had a specific coat closet in my home to just hold our winter jackets. Since then, I have moved into an old farmhouse without a lot of storage space. Our winter jackets hang on hooks in our front entryway all winter long. Leaving them there all summer just looks tacky to me, so I came up with a plan to store our winter coats for summer. Here is how to store your winter coats properly.
*This post contains affiliate links to help support our site at no additional cost to you. For more information, please see our Privacy Policy.*
Lack of Storage?
We all need more storage. Obviously, it's a big deal or the U.S. self-storage industry wouldn't be making $39.5 billion dollars a year. But with the high demand, the prices of renting a storage unit are climbing every year. (Supply vs. demand economics here.)
So what do you do when you need more storage space but don't have it?
Improvise, obviously.
Finding Storage You Don't Have
How do you find more storage in your home when you feel like there just isn't room for anything else? Utilize spaces creatively.
Is there room under your bed? Is there a way you could create more storage with a piece of furniture? Walk around your space with a new set of eyes to see if there are any spots that you never noticed before.
A great way to gain space is by using chests and seating to double duty. I have a cedar chest in my from entry to create more storage in that area. It's a great space to store our winter jackets without removing them from their actual "home". (Which is hanging by the garage entry.)
Storing Winter Coats
First, determine which jackets are true "winter" and which you may need for a chilly summer cookout or bonfire. I know so many people who put away all of their jackets only to need a jacket for an event during the summer.
I have done this, too, so no judgment here. We went out with friends on a boat to watch the fireworks one Fourth of July. Out there on the lake, I was sooooo wishing I had a jacket. I hadn't even thought to grab one because they were all packed away.
Next, we are going to make sure that the pockets are all cleaned out and ready to wash. Sorry, next year when you get them out there will be no surprise cash in the pockets. But it's for a good cause, so I'm sure you can handle it.
Washing winter jackets can be daunting. Most are able to run through your washing machine easily. Others, like my wool dress coat, are dry clean only. Make sure you inspect the tag before you toss anything into the washer.
Dry Clean Only?
If you have a dry clean only coat, don't waste time and money going to the cleaners. We are just cleaning these to store them, so simply purchasing a home Dyrel kit will work wonderfully for this.
Making sure that your coat is grab and wear clean next season is key. At-home dry cleaning is a cheaper alternative to running to the cleaners. It is at least a 15-mile drive to the nearest cleaner from us, so I save the money on cleaning and driving by just doing it at home.
Washing Your Winter Coats
Just because this is what I own personally, I'm going to walk you through the steps I use to wash my Carhartt coat. Being in Northwest Ohio, especially as cold as it got this year, I couldn't ask for a warmer, better performing jacket.
Save up to 40% on featured styles in the Carhartt.com Clearance Section.
Here is the actual coat I own.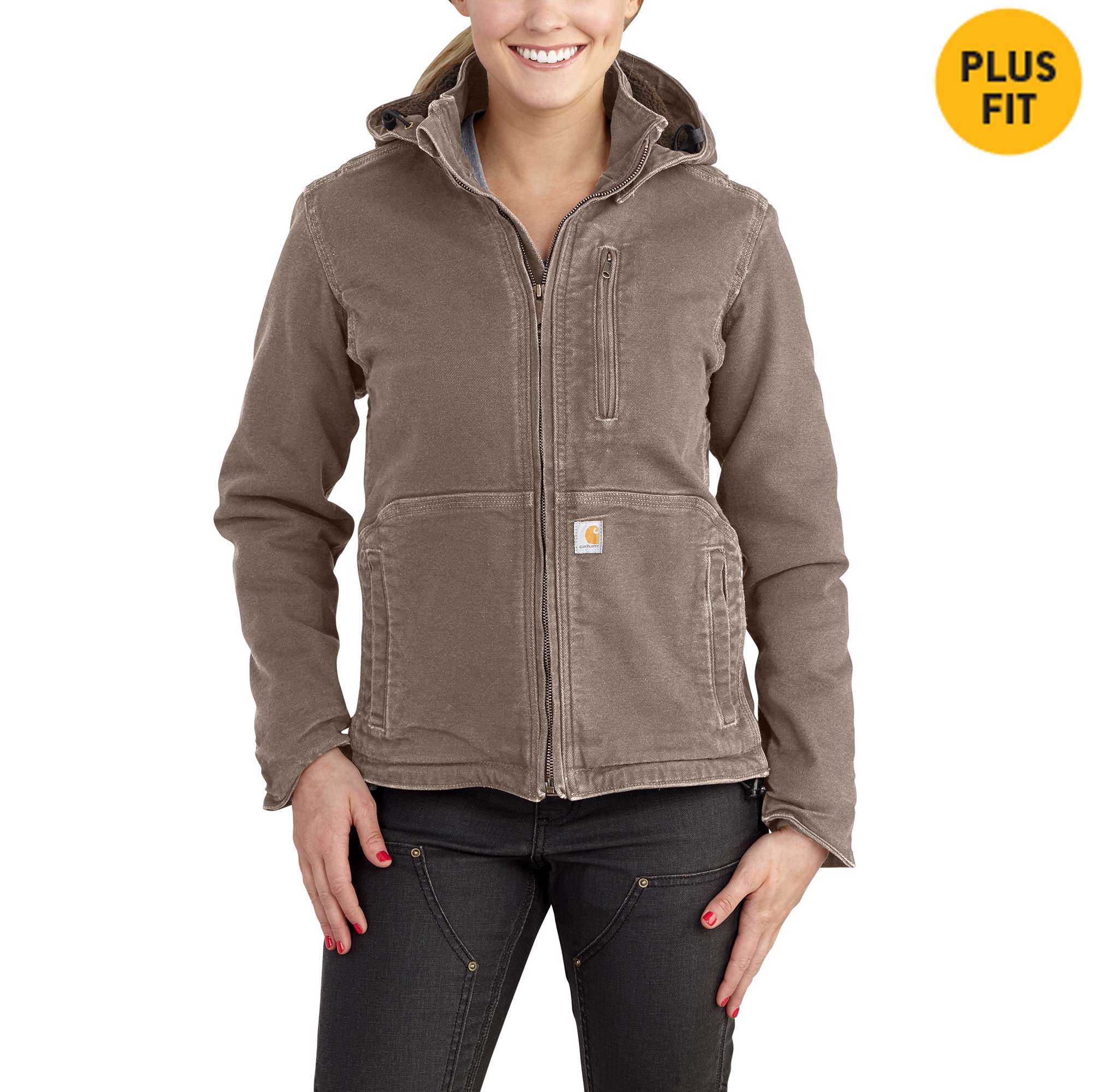 As I said before, check all of the pockets in your coat. Don't forget about inner ones, breast pockets, and all the little nooks and crannies. I have found my Chapstick in the weirdest places in my jackets.
Now, lay it out and inspect for stains or other spots. If you find any, try to figure out what kind of stain it is. For dirt and mud, pre-treat with a spot treatment or just a small amount of laundry soap. If it is grease or oil, use a teaspoon of Dawn to pre-treat it.
How to Load Coats in Your Washer
This is simple if you have a front-load or a washer with no agitator. Just toss them in and let the washer run. If you still have a washer with a center agitator, try to wash two coats at a time to level your load. These get heavy when they are wet, so your washer is going to get off balance very easily.
Wash as you normally would a load of colors. For me, that's cool water on a regular cycle with a second rinse cycle. Most jackets cannot stand up to hot water, so please avoid that if you can.
Once your cycle has completed, run another spin cycle to make sure that as much water as possible is out of the fabric. These dense materials hold tons of water. You will be amazed at how much more water can be spun out even after your wash cycle has completed.
Drying Your Winter Coats
Some jackets can be heat dried, others cannot. Make sure you check your tags for this instruction too. I avoid putting my jackets in the dryer at all. Grab some very thick plastic hangers, like these here. If you do not have outdoor space to hang them, just hang them on your shower curtain rod over the shower door. Anywhere you can find to let them dry.
How to Store Winter Coats
Now, simply fold and store your winter coat. The easiest and most space-saving option I have found to store your coats, no matter how bulky, is by folding them.
First, zip or button your coat. Now lay flat, front side down on a large surface. Fold into thirds width-wise, angling in the sleeves at each fold. Now, fold in half height-wise to complete your folding.
Now it's a simple as choosing a shelf, box, or storage tote to place them in for winter. Mine get stacked into my cedar chest. If you are using a box or storage tote, make sure to label it clearly so that it's easy to identify next season.
Store winter coats with confidence this year. You'll be amazed at home much easier your life will be when you get them back out later this year. They will be clean, fresh, and ready to wear. Store winter coats like never before. You will thank yourself for it.
PS. I love Carhartt even more since I found out that they give a 10% discount to our wonderful military!
Carhartt proudly supports verified members of the Military community by providing a 10% discount on apparel and accessories.
Please follow and like us: