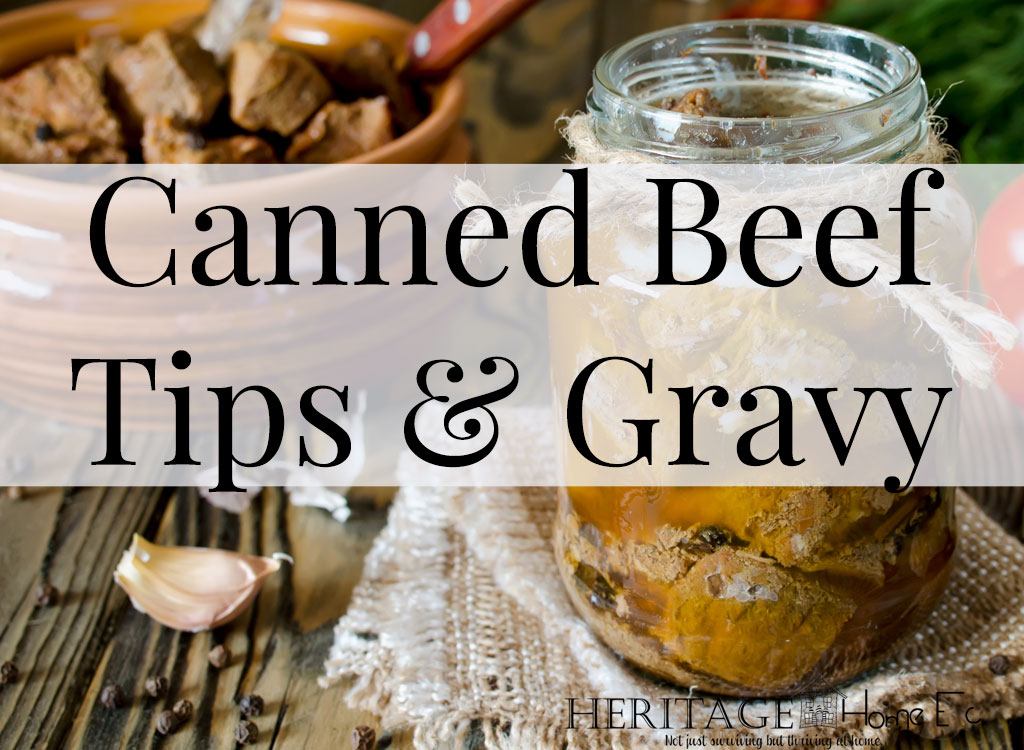 Having jars of this Canned Beef Tips & Gravy will make excellent meals! Reheat with vegetables, atop mashed potatoes or mixed with cooked egg noodles.
I love to can. Having homemade food stored for quick meals beats buying convenience foods at the grocery store every time for us.
Home Canning Beef Tips and All Meat
A lot of people I know are intimidated at the thought of canning meat, or canning anything requiring a pressure canner. But, it's really not too difficult with the right equipment and with practice.
Meat (and other home canned items) require the use of a pressure canner in order to kill the bacteria that can cause botulism with both heat and pressure.
Read more about proper meat canning at the National Center for Home Food Preservation website here.
To learn more about pressure canning, see my post about Home Canning In an Instant Pot?
Heat and Serve Beef Tips and Gravy
Half of the reason that I love making this and having it in the pantry is that it's simple for my hubby to make. I love that he can just heat it up on the stovetop and then just serve it over some cooked noodles. It's simple for him, and I know he's not ingesting a bunch of processed food.
Trust me, I love the mixture of protein and starch for his skinny butt. I've been trying to fatten him up since the day I met him. *wink*
Beef and Garlic… Yum!
I can't lie. I love garlic. As does my hubby. There's a saying that garlic breath ruins any intimacy. I dissagree. Because we are both eating it, it cancels the smell out. You can't smell it on the other one when you already have it on your own breath, right?
There is just something about garlic that I adore. It gives so much flavor to a dish without having to use a lot of salt. I grew up in a home without a lot of salt in my food. My mother couldn't have it because of her illness. It made her retain water, and her illness did that to her anyhow. So, I learned to flavor my food with other herbs and spices.
Which is probably why to this day, I have my own kitchen herb garden. I use fresh when I have it, and I preserve what I can to use during the winter. I both infuse oils with the herbs, and I dehydrate my own to fill up my spice jars.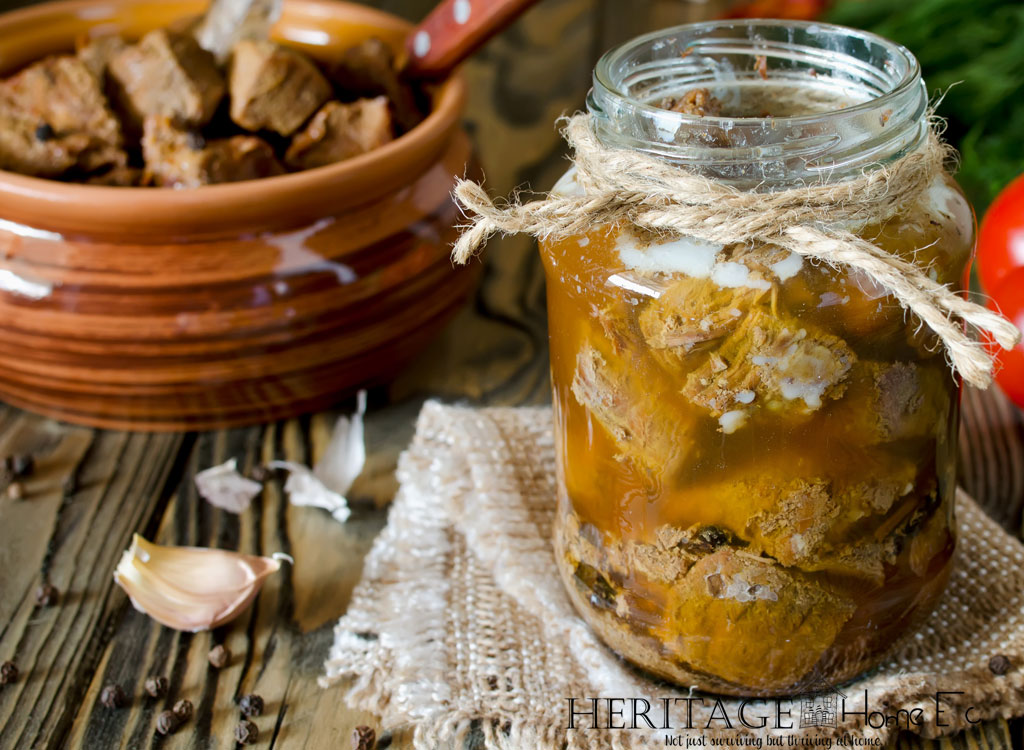 Canned Beef Tips and Gravy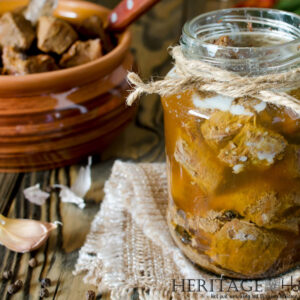 Home Canned Beef Tips & Gravy with Whole Garlic Cloves
Having jars of this at the ready will make excellent meals!Reheat this seasoned, cooked meat alongside vegetables, atop mashed potatoes ormixed with cooked egg noodles for a quick meal or use as a meal starter whenmaking main dishes, soups and stews.
Print Recipe
Ingredients
10-12

lbs

stew beef

cut into 2" chunks

8-16

garlic whole cloves

2-4

Tbsp

of Extra Virgin Olive Oil

2

Tsp

sea salt

1

Tsp

black pepper

ground

3

Tbsp

Canning Gel

modified starch safe for home canning
Instructions
Meat Prep: Choose the highest cut of meat you prefer to eat. Trim meat of gristle, excess fat, silver skin, and any bruised spots. Simply cut your meat into 1"-2" thick chunks, cubes, or strips. Or purchase pre-cut stew meat from the butcher.

Pat your meat dry with a paper towel so it will brown properly. In a deep skillet or medium-sized stockpot, sear the meat in batches using 1 tablespoon of olive oil at a time. Dash each batch with sea salt and black pepper. Work quickly to sear all sides of the meat being careful not to cook the meat! It is literally in the pan for seconds on each side. You want the meat very raw in its interior and just seared on the exterior. Leave the delicious drippings in the skillet to be used later. Remove meat from skillet after searing and set aside in a large bowl.

Once all of your meat has been browned and placed in a large bowl, add 4 cups of hot water to the oil and meat drippings left in the skillet/pot. Whisk in Canning Gel and bring liquid mixture to a quick boil, stirring frequently. Boil for 2 minutes then remove from heat.

Be sure the pint jars are clean and have been kept warm. Add 1-2 whole garlic cloves (you can add however many you choose as they are for flavor) to each warm jar and pack meat leaving a generous 1" headspace. Ladle hot broth mixture created from the dripping over the top of meat being sure to keep the generous 1" headspace.

Pressure can at 10 pounds of pressure, 75 minutes for pints and 90 minutes for quarts.
Don't Can? No Problem!
If you either do not want to can this, or don't know how, you can freeze it instead!
Cook as directed, omitting the Canning Gel. Allow to cool to room temperature and place into labeled freezer bags. Lay flat to freeze. Then, simply thaw overnight in the refrigerator and reheat in a saucepan on the stove. Serve and enjoy!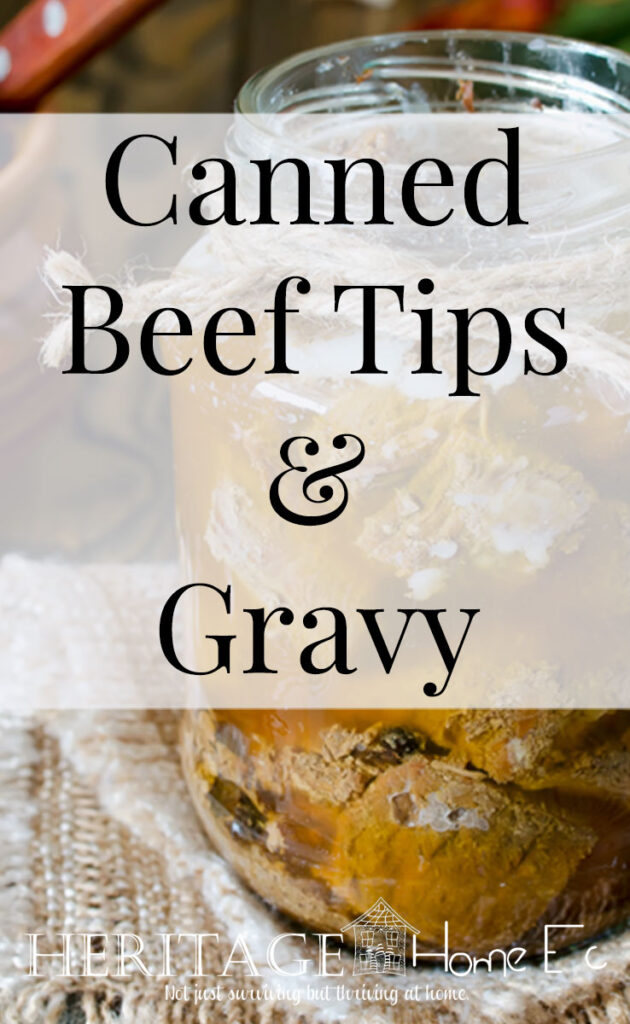 Follow my blog with Bloglovin
Please follow and like us: